The Hat Museum in Bern
For a virtual visit of Bern's hat museum, enter here ...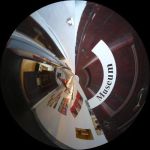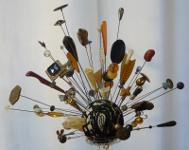 In the old town of Bern, passing by the famous Zytglocke, walking down through the historic arcades towards the bear pit, you suddenly face the fountain of justice. Turn your head left, here you are : the Hat Museum awaits for you, just above the Hat Shop, at Gerechtigkeitsgasse 56, on the first floor of an ancient patrician house.
Museum is here a big word, as the exhibition presented is rather confined : what are 40 m2 compared to the thousands of square meters of most of today's museums ? Nevertheless, believing the countless visitors, it's worth a visit. A "small bijou", true "curiosity cabinet", inviting you to a journey beyond time. The beautiful wooden room, with its big hats stove of the XVIII th. Century alone will speak to the senses of those who still can see and appreciate. Just passing by, or taking your time, the small Hat Museum in Bern is worth a visit !
You'll discover the Town's Mayor Hat, which he wears once a year in January on the Welcome-Day. Its august neighbor, summer hat of late President Mitterrand keeps him good company, reminding us of the times when Bern was nourishing tight relationship with France. More modest, but of great interest, the first paper hat which completed world tour in balloon without any landing, was presented to the museum by Messrs. Bertrand Piccard and Brian Jones themselves.
Far more than a few hats, notable or anonymous, you will discover here a unique collection of Advertisings, Postcards, Vinyl Records, Movie Bills, Clichés, Hatter's Instruments, Objects, Books, Literature Extracts, altogether reminding us the very top and apart position the hat always had in human civilizations. A sensible tribute, where humour meets with the most essential of all accessories !
Open on demand in the shop, or call the +41 (0)31 312 14 92. Guided tours up to 20 persons on arrangement